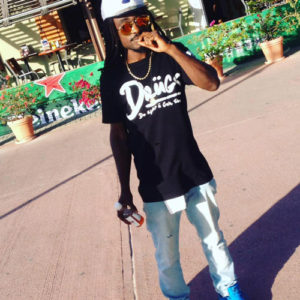 St Maarten for some time now, as the music scene grow on the island there are many artist that are adding their unique swag and dialect to the the growing sector. With so much to offer lyrically from the local scene, we continue to bring you closer to some of your local favorite artist. In Jan 2017 Edition we get you up close and personal with Danjah Suave !!!
What is your name and how did you come about the name Danjah Suave?
A girl that i had a lil fling with.. and the Suave came in after cross mom told me that she didn't like it  the name danjah it sounds to dangerous. lol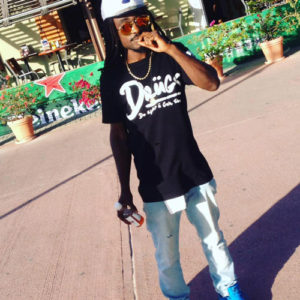 How long have you been doing Music in the hip hop field as an artist?
Over 12 years now..
Of all the different genres being Caribbean rooted, why did you choose this particular genre?
Well to be honest i didn't choose this. It choose me i just flow the whisper.
Do you face any challenges being a hip hop artist out here in the Caribbean?
Yeah, All the time
We know that you have been working hard along side your group O3 on the movement WAVEY,  What inspired the name wavy ?
From WAVEY KID
What is the Wavy movement all about?
A way of life, everything we do is a wave weather its negative are positive…
There have been numerous discussions on  the hype of your teams branded drink called Wavy Juice last year, can we expect more wavy justice this carnival season ?
Yes you sure can!!! The wavey juice is the mew wave right now. If you don't got that wave in your cup you ain't Surfing!!! One sip guarantee you hook like Drugs,  #DoRightYouGainSuccess but we have a lot in store for all of our Surfers & MerMaids..
What are your observations of the music scene here on St Maarten and do you think that there are more potential artist locally that have international potential?
It's growing and it will get bigger and better once the pusher's who is pushing right now to mark a name for them self keep at it , stay humble motivated in time we will be respected.
What genders of music do you feel have a great impact on the outside world influenced by our Caribbean culture?
All music.
What would u like to see change or adapted in St Maarten that will help inspire more local artist to be productive?
More respect for the highcall artist we don't say local we use the term highcall
Do you think making music in St Maarten can be one to uphold a sustainable lifestyle and responsibilities?
It can uphold a sustainable lifestyle and responsibilities only when they start embracing and respecting the art in the way they should…
Do you listen to other local artist, Mention a few?
Yeah i do. i listen to artist like ( RLS, ODD BROTHERS, TEAMWAVEY, O3NATION SOLO QUEEN ,DEKLUS  ) just to mention a few
Which local artist have you collaborated with or would like to collaborate with ?
Who ever is willing to make history…
What keeps you motivated currently?
LIFE
Who or what are some of your biggest inspirations ?
RASTA, Thats my mom and th people around m by seeing then good, I'm Good !
Where do you see yourself in the next year?
Traveling doing what i love and enjoy doing music creating ways and opportunities for those who is willing to take that extra step out of there comfort box
What can St Maarten and the World Expect next from Mr Suavey?
Expect The unexpected…..   
If you could be anywhere in the world right now,  where would it be?
Where ever my heart choose to be at in the moment in time..
As you know our Cultural News Magazine is focused on a number of community awareness building topics, most importantly Agriculture and Community development. What are your thoughts and views of the importance of Agriculture for St Maarten?
We must eat so it got to be one of the most important factors
What do you think can bring more community members together to focus on positive development issues for their surrounding communities?
Togetherness …
As we come to the end of the Q and A interview:
Who would like to give a shout out to and also some inspirational words for our youngsters and upcoming artist that look forward to taking on music as a career possibility?
I would to thank everyone who been showing me love from day one and believe in my grind ( Team Wavey Don Rich ) my mom Rasta for always pushing me to do great things
and for all those that disbelieve in me also thank y'all cause wit out y'all i wouldn't be so motivated..
For the up coming surfers that wanna surf up on this music wave… its not an easy road… just find something that you have that passion and love so deep for and hold on to it like it's a life and death situation. Believe in yourself and in what ever you do put the lord first and you will be just fine… Just remember noting good or great come easy in life, you will have to go through all the storms before the calm… suave life #StayWavey!!
Nuff Respect goes out to Mr Suave , one of St Maarten next rising stars… Cultural Xpression wishes you all the best on your  journey forward!!!!
READ THE ENTIRE CX JAN 2016 EDITION HERE
http://caribbeanworldcharts.com/danjah-suava-interview/