The St Peters Community Garden Research and Development Center was extensively damaged during the passing Hurricane Irma. A place where promising eco learning experience came to life day by day just as cultivated crops stand their ground towards harvest . Although hurricane Irma brought much destruction and loses, it also brought a chance for development and growth. A chance to do something you never did before, a chance to become that business man or woman and bring to life that dream you always slept on to create new windows of opportunity. A chance to get involved in make Agriculture a reality for St Maarten.
Spaceless Garden with support of Prince Bernhard Culture funds will be putting together a community volunteer effort that may help unemployed or motivated person to enhance their skills while contributing to a great cause in the community.
The Skill Enhancement volunteer program will focus on taking skillful and open minded unemployed community members to embark on a journey of the revitalization of the St Peters Community Garden Research and Development center. Over the past year and even more so, after the passing of hurricane Irma, the community garden has been interacting with both youngsters and elders that reached out for minor assistance, in the forms of compensated volunteer opportunities, counseling, or just a place to get away from the harsh reality and be surrounded by motivated people that seek a better tomorrow.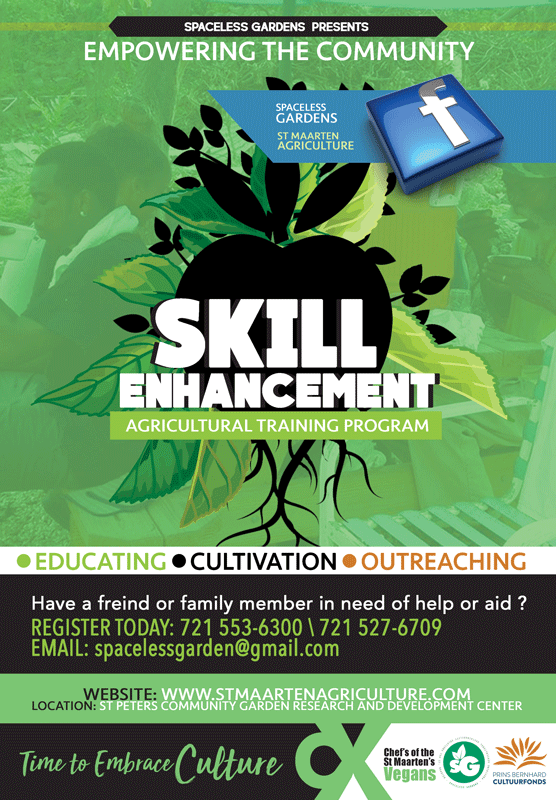 Registrations for the program will be open from today for members of the surrounding communities that may be interested in joining the volunteer program. The organization is seeking volunteers which will be guided by skilled trainers in the agricultural , landscaping and waste management field. Volunteers will be compensated at $5 an hour for their effort and trainers at $500 per month based on hours contributed. The program will start on Monday Dec 4, 2018 and take place 5 days a week from 8am to 12 pm at the St Peters Community Garden Research and Development Center located in St Peters Strawberry rd#16. ''We have also adjusted time frames for young volunteers that have already registered but are going to school.'' Wyatte mentioned. The funds received by Spaceless Gardens will be allotted to help volunteers and trainers with basic needs as they help with the clean up , putting together grow boxes, soil preparation, planting of seeds, debris removal and the distributions of aid supplies received from Act and Pack Backpack Project to community members in need.
The last skilled enhancement program 2016-2017 by Spaceless Gardens yield great results and the organization was able to gather data and names of committed volunteers that were also contacted to assist with the project.
This program will run for the course of 2-3 months ending with a Fish Fry Saturday at the community garden where surrounding community members will be able to come and get free produce grown by the participating volunteers.
The program will consist of 5 volunteer and 3 trainers:
Available openings:
1 trainer – Carpenter to assists with putting together of grow boxes from wood in surrounding areas, clean up and community assessments
2 volunteers – To assist with Clean up and community assessments
If you know a friend or a family member that is in need of assistance and is willing to come out and also help with the revitalization of the St Peters Community Garden and distribution of aid supplies to community members, please contact us to see how we may be of assistance. Registration can be done by contacting 553-6300 527-6709 or email spacelessgardens@gmail.com or visit the contact form at www.stmaartenagriculture.comcontact
The community garden brings a sort of unity and family relationship amounts participating members, They share their thoughts and opinions, educate each other, learn how to cook a meal on an open fire and most of all we come together to to embrace culture and achieve a continuous awareness building amounts our communities and its members as individuals.
The mission is to create a positive group that will embrace the value of Agriculture and pass it on to others that are willing to take it to the next step further.
Spaceless Garden would like to thank Prins Bernhard Cultuurfonds and its respect bodies for believing in our organization and the continuous outreach to build awareness towards sustainable Agri-Cultural solutions for our communities, its member and country St Maarten.
''There is only so much we can do, but as individuals we must do what we can to contribute to the positive rebuilding of our beautiful Island St Maarten. Agriculture should not be left out in this process so we must educate as much as we can on the importance, benefits and sustainability it may bring to our future generations to come'' Denicio Wyatte – Man Dir Spaceless Gardens Project Developer St Peters Community Garden Research and Development Center.
The post Prins Bernhard Cultuurfonds makes contribution to St Peters Community Garden Volunteer Program appeared first on St Maarten Argriculture.